High dimensional solutions to every product in demand. Hot forging technology recognized by many professionals.
We, Nakano Forging Group, have continuously pursued the possibilities of nonferrous metals and challenges of various forms of forging. Our top quality forged products have received high praise from many business enterprises.
Various materials to meet the needs of a range of production components.
With our concentration in brass, we can accommodate the needs for nonferrous materials: copper, aluminum, and stainless steel.
We possess a deep understanding of nonferrous material properties: brass, copper, aluminum, and stainless steel. We can efficiently process materials into any requested shape and quality using our superior hot forging skills and technology. The quality of our products surpasses that of other companies, because everything (including dies) is manufactured in-house.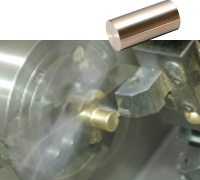 Brass
Hot Forging Process
If a shape can be transferred to a die, we can produce even complicated components using brass (C3771B). Our specialty is in producing goods that weigh between ten to a few hundred grams. We can also produce trial forged goods in a minimum of 10 days. We process our products using a multiple automated forging press line as the main assembly line, and can handle both small and large lots. We are capable of manufacturing our products using an integrated production system covering all the processes, from machining through finishing.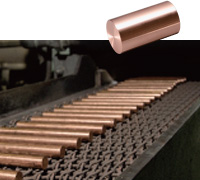 Copper
Hot Forging Process
Among the nonferrous materials, copper is a material that requires the highest of skills. We mainly forge those copper materials with superior workability, such as C-1100 (Tough pitch copper) and C-1020 (Oxygen-free copper).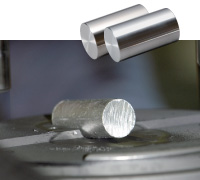 Aluminum/Stainless Steel
Hot Forging Process
Because we make our own dies, we can process aluminum and stainless steel materials, which tend to be avoided by many companies, except by those who specialize in these materials. In order to avoid contamination by other materials, we forge these materials using completely independent lines.
---
Our products are employed in various products produced by large manufacturers. Their true value is demonstrated in a wide range of fields. We, Nakano Forging Group, take pride in our high-precision and high-quality hot forging products.
Our products are being employed by large manufacturers in various fields. Plumbing parts that connect pipes carrying fluids (such as water, air gas, and oil), and various valves that control machine tools, are some examples of the products for which we have received high praise. Our high quality products are employed by house builders for their water supply, drainage components, and hot water supply equipment parts. They are also used in high quality lightning rods, for Buddhist altar fittings, for builders' hardware, and for special high pressure valves that are used in accumulators. The brass forged components are receiving special attention as environmentally friendly products due to brass' low melting point, which makes our products easy to recycle and thus have lower CO2 emissions.

Hollow forging components

Buddhist altar fittings

Hot water supply equipment components

High pressure valve components

Lightning rod components

Water supply and drainage components

Various valve parts

Plumbing parts

Builders' hardware, etc.